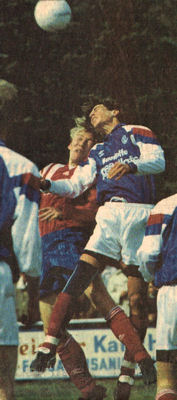 Thanksgiving Camp
Nov 19th to 21st, Golden Hills Park (South Park)
Winter Camps
Week of Dec 17th, Golden Hills Park (South Park)
Dec 24th, 26 to 28th, Golden Hills Park (South Park)
Dec 31st, Jan 2nd to 4th, Golden Hills Park (South Park)
more
Clinics
3v3 Soccer and Skills Clinic, Sundays, 5:00-6:30 pm, Golden Hills Park (South Park)
Note: times & locations may vary more
Current after-school programs
more
Welcome to the German Soccer Academy!
Founded in 2005, the German Soccer Academy offers fun and challenging year-round soccer camps, after-school soccer programs and Sunday 3v3 & Shooting clinics (see information below) for kids ages 5 through 14.
The German Soccer Academy develops and improves players with fun, dynamic soccer related games, including such favorites as Star Wars and Shark Attack, and 1 vs. 1 and 2 vs. 2 soccer. This is done in a social, positive environment which promotes good sportsmanship. While many different topics are introduced and developed in the program, including passing, shooting, heading, and controlling the ball, the focus of the majority of the activities is on dribbling and every player learning to be comfortable with the ball at their feet. The ability to control the ball and dribble under pressure is the foundation of playing successful soccer at a higher level.
To read what some parents have written about the program, please click here.
(Picture left: Craig wins a header duel in Hamburg, Germany)